【Featured News】Introducing the industry map overviewed Japanese VR market, "2016 VR Industry Landscape in JAPAN"
2016年11月09日 23時00分更新
While 2016 is called as the first year of VR, recently, the number of the company who joined the VR business has been increased, of course it happens in world, but also in Japan as well. Even at the "Tokyo Game show 2016", as Sony leads the show with PlaystationVR, the show provide the new area called "VR section", and the VR contents and its service have become the main topic in the industry.
So "Social VR Info" made the industry map that details Japanese companies who is participate in the VR business (supervised by Colopl VR Fund). It is designed based on the "2016 VR Industry Landscape" which overviewed the VR market in the world created by US venture capital fund "The Venture Reality Fund", and it is composed with three sectors, the application or the content, a tool or platform, and infrastructures.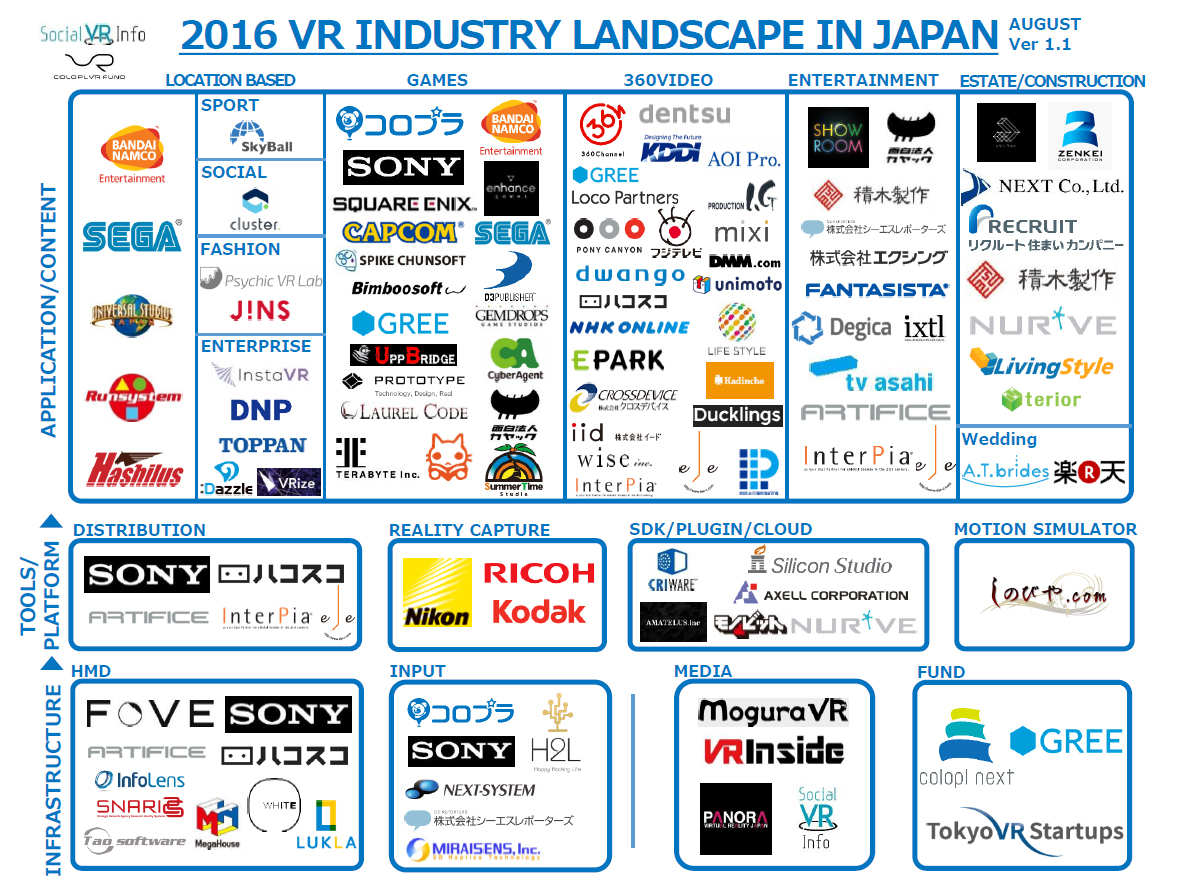 We hope this map may help to overview entire VR market in Japan. "Social VR info" will update "2016 VR Industry Landscape in JAPAN" on a regular bases.
■LOCATION BASED

・BANDAI NAMCO
・SEGA
・UNIVERSAL STUDIO JAPAN
・RunSystem
・Hashilus

-SPORTS
・SkyBall

-Social
・Cluster

-Fashion
・Psychic VR Lab
・JINS

-ENTERPRISE
・InstaVR
・DNP
・TOPPAN
・Dazzle
・VRize

■GAMES

・コロプラ(Colopl, Inc.)
・面白法人カヤック(KAYAC)
・SONY
・BANDAI NAMCO
・Enhanced Gamess
・SEGA
・SQUARE ENIX
・CAPCOM
・SPIKE CHUNSOFT
・Bimboosoft
・GREE
・D3PUBLISHER
・GEMDROPS
・UPP BRIDGE
・CYBERAGENT
・PROTOTYPE
・LAUREL CODE
・TERABYTE Inc.
・Summer Time Studio
・YOMUNECO


■360VIDEO

・360Channel
・dentsu
・KDDI
・AOI Pro
・GREE
・mixi
・Loco Partners
・PRODUCTION I.G
・PONY CANYON
・dwango
・DMM.COM
・ハコスコ(Hacosco)
・フジテレビ(FujiTV)
・NHK ONLINE
・EPARK
・CROSSDEVICE
・iid
・wise inc
・InterPia
・unimoto
・LIFE STYLE
・Kadinche
・Ducklings
・eje inc.
・PIXELA
■ENTERTAIMENT

・SHOWROOM
・面白法人カヤック(KAYAC)
・積木製作(TSUMIKI SEISAKU)
・シーエスレポーターズ
・エクシング(XING INC)
・FANTASISTA
・Degica
・ixtl
・tv asahi
・ARTIFICE
・InterPia
・eje inc.


■ESTATE/CONSTRUCION

・DVERSE
・ZENKEI
・NEXT Co.,Ltd
・リクルート住まいカンパニー(Rexruit Sumai Company)
・積木製作(TSUMIKI SEISAKU)
・NUR*VE
・LivingStyle
・terior

■Wedding

・A.T.Brides
・楽天(rakuten)

■DISTRIBUTION

・SONY
・ハコスコ(Hacosco)
・ARTIFICE
・InterPia

■REALITY CAPTURE

・NIKON
・RICHO
・Kodak

■SDK/PLUG IN/CLOUD

・CRIWARE
・AMATELUS inc
・Silicon Studio
・AXELL CORPORATION
・モノビット(monobit)
・NUR*VE

■MOTION SIMULATOR

・しのびや.com(

Shinobiya.com

)

■HMD

・FOVE
・SONY
・ARTIFICE
・ハコスコ(Hacosco)
・InfoLens
・SNARIS
・Tao software
・MegaHouse
・WHITE
・LUKLA

■INPUT

・コロプラ(Colopl, Inc.)
・SONY
・H2L
・NEXT SYSTEM
・シーエスレボーダーズ
・MIRAISENS,Inc

■MEDIA

・MoguraVR
・VR Inside
・PANORA
・SocialVRInfo

■FUND
・COLOPL NEXT
・GREE
・Tokyo VR Startups